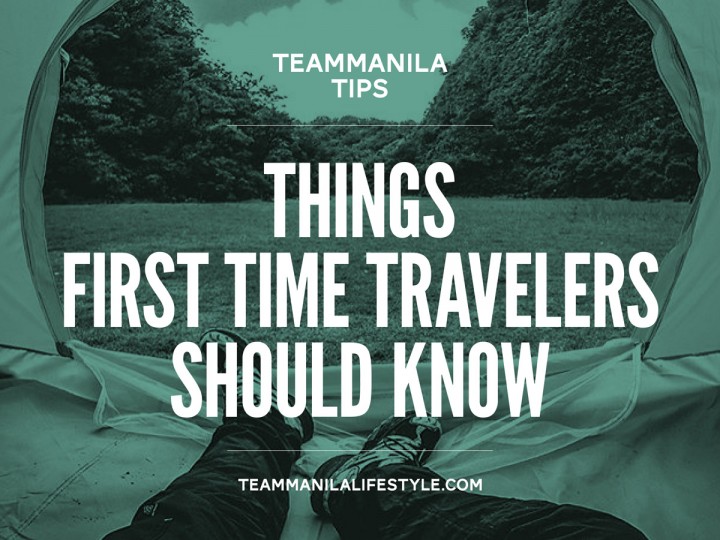 If you've always been afraid of heading on to new adventures, you will never go places. Worry no more because we'll make it easy for you.
Straight from the travel bloggers, here are the things that you need to know before climbing the highest peaks or setting your foot to the beach. Read on.
1. On packing travel necessities
JM is the lost kid who travels. He loves to share what he sees and tell stories behind his photographs.
"Never bring all your stuff, just pack light. Leave all your unnecessary things and just only bring what you really need. So far, this helped me a lot whenever I travel. Not only it lessened the weight but also it is clutter and stress-free. I also separate my toiletries, gadgets and other things and put them into different zip locks and label them. I can't travel without my camera—phone or DSLR. Primarily, I like taking pictures and this is so far my essential when traveling to document every moment that is happening. For emergency purposes, I bring extra cash, identification card and medicine kit. – JM Sabariaga
2. On precautionary measures
Angel is an adventure seeker and a person of many things. He is in the office during weekdays and is most probably underwater, on the saddle or out-of-town on weekends.  
"Always bring a whistle. It will come in handy in case of emergency and unforeseen circumstances. To attract attention in case of emergency, to scare away bad elements or wild animals, or even as a signaling device whenever you get lost in the middle of the mountain or the sea. " – Angel Suarez
3. On preparing a necessary travel document
Gay is a cheapstake backpacker who travels in the country and even abroad. She believes that there is always more to discover outdoors.
 "Don't forget to check the validity of your passport prior to the trip. It must be valid for six months. Even seasoned travelers sometimes forget this." – Gay Emami
4. On money-saving hacks
Aileen quit his day job to travel the world. She is now a digital nomad and entrepreneur living a sustainable travel lifestyle.  
"Travel is often viewed by many as expensive but such is not true. There are tons of ways to save while on the road and one of the best travel tips that I can give you is to take advantage of free and cheap travel opportunities. For instance, make sure to sign up on websites that can update you on airfare deals. Apart from keeping an eye on your local airline promos, keep an eye as well on international ones. Whereas for saving on accommodation, there are various ways to scoring cheap places to stay and even free ones: couch surfing, volunteering, home stays, etc." – Aileen Adalid
5. On unlocking new journeys
Gideon is a physician, anthropologist, writer, mountaineer and an environmental advocate. He keeps a blog about a guide to hiking in the Philippines.
"Don't treat the world as a checklist. You may have an itinerary but be open to detours. You may have done your research but be open to things you've never heard of. You may have a list of things to see and do but be open to experiences unique and special." – Gideon Lasco
6. On enjoying the entire trip
Aaron is a filmmaker and photographer. He is primarily known for his time-lapse clips and night photography.  
"There's no right way to travel. The more important thing is your attitude: openness, first and foremost, flexibility since adventure means things may not and will not go as planned and an ability to put away your phone and live in the moment fully. Don't feel pressured by social media to do or be one thing or another. Enjoy everything—gather stories, even when and especially if you slip past your comfort zone. You can take the same Instagram picture as million as other people but inhabiting the moment makes the experience uniquely yours." – Aaron Palabyab
7. On taking care of the environment
DiscoverMNL is an online group who captures the best and undiscovered treasures of Manila and beyond. They love food, places, lifestyle and adventures.
""Leave nothing but foot prints, make nothing but memories." We should all be responsible travelers and learn to take care of the places we go to. Nowadays people tend to neglect their surroundings leaving us with garbage all over tourist sites and destinations. Make sure you're not one of the ignorant ones and do your best to help preserve the beauty that nature provided us." – Discover MNL
8. On connecting with the locals
John is a product of any quantity. He is a member of an online community of travelers from the Philippines.  
"It's all a matter of taking chances to connect people. From the time you have established connection that's when a new perspective triggers. When you have earned a new perspective, that's when you truly understand people's way of living. From that point forward, you will never have to feel lost. There's so much to explore, there's so much to connect with." – John Austria
9. On getting lost in a certain place
Gerald is a wilderness explorer and an adventure photographer. He also works as an influencer on a photo sharing application and partners with brands for social media campaigns.
"Preparation, including budget and itinerary for traveling is necessary. But there are times that you would still get lost. Do not worry, it will only make the adventure fun and memorable. Based on my experience, here are the tips that I can share. You should ask the locals since they know the way. Look for the nearest police station, tourist desk, barangay hall and ask the people there and get their contact numbers as well. If you're going for a hike, it is best recommended to hire a guide. Use helpful apps if you have an Internet connection. Familiarize yourself with the surroundings—landmarks and street signs, where you are currently in. Learn a bit of their local language. Before traveling, share your itinerary to a person from your household or a friend and have their contact numbers with you. Do not panic, just stay calm. Help will always be a available if you know what to ask, where t go and what to do. Enjoy the moment. Getting lost is part of the adventure. You will eventually find your way." – Gerald Tipones
10. On finding life's meaning while traveling
Justin is an architecture student by day, writer and designer by night and hiker on free days. He believes that life is too short to live without adventure.  
"I'm a firm believer that traveling doesn't really give you that sense o f meaning, When you travel, it doesn't necessarily mean you'll get answers or you'll be able to move on from something painful. But every tip teaches us something. Through traveling, you'll earn really good friends. You get to realize the things that you want to do in life. You get to see the world from a different perspective. You learn different cultures. You become part of something great. When you travel, you leave a piece of you in every place you go to. And when you come back, you'll realize at how much is left. So does traveling help you find life's meaning or heal life's wounds? I'd say no. But if there's one thing that traveling does to us, it is that it will always make us a better version of who we are before. Life is too short to live without adventure. Go. Live. " – Justin Vawter
There are a lot of things the Philippines has to offer. Get on your bucket list and begin ticking them off one by one. By this time, you are now ready to explore the country. Pack your things and don't miss that flight!
Categories Collection, Features, Hitlist