We just can't deny how people find history boring sometimes. May it be about revolution, achievement, or death, history to some is just another tale of the past which is more than often insignificant to the future.
But history, even in its smallest sense, is a true to life account of why we are here and who we are today. Significant and valid, history can be an interesting topic that doesn't require pages and pages of information. Yes, you can hide your history books now because we've found a better way of educating ourselves with the past through Dead Balagtas.
Full of humor, color, and wit, Dead Balagtas or Emiliana Kampilan presents history with a twist. Her illustrations which feature bits and pieces of the Philippine past educate and tickle the bone of a thousand and more. From Jose Rizal, Andres Bonifacio, to the most unheard Philippine martyrs, Dead Balagtas is a fresh take on Philippine History as showed in her eye-pleasing illustrations.
TeamManila interviewed this budding artist whose work is definitely worth sharing. We've also cooked up a special TeamManila x Dead Balagtas collaboration which you can also see below. Enjoy!

Tell us something about Dead Balagtas … How did it begin and who is behind it?
Hi! Ako po si Emiliana Kampilan, may-akda ng Dead Balagtas. Ang Dead Balagtas ay mga komik strip tungkol sa mga bayani at sa kasaysayan ng Pilipinas. It is one-part history and two-part kabalastugan.
I'm quite frustrated on how undervalued history is as a subject in terms of academic setting and with the Filipinos in general. Iniisip ko nun, "how can one stir interest in what is perceived as a boring and depressing subject about dead people and well, death?" So I decided to inject humor and make all these very sad and complex events about dead people digestible in the form of komiks. Mahilig tayong mga Pilipino tumawa e.
As Balagtas used the comedia as a platform to stir the hearts and minds of people back then to realize their self worth, ganun rin sana ang gusto ko gawin pero sa pamamagitan ng ibang popular medium.
Who or what is Dead Balagtas' inspiration?
Ang aking mga lolo't lola ang nag-inspire sa Dead Balagtas. I come from a family of historians at laking lolo't lola ako. I grew up listening to their stories about our historic past and their own colorful experiences. My grandparents told these stories in the most informative but hilariously self-depreciating way.  Laughter was a coping mechanism for these war-shocked people e. And here's the thing: I remember all of them. That's the power of humor.

Why did Dead Balagtas decide to focus on Philippine history as the backbone of its comics?
Napakahalagang malaman ng mga tao ang kasaysayan ng bayan nila. Sabi nga ng Lola Gertrudes ko: "Hindi mo kilala ang sarili mo kung hindi mo alam ang nakaraan mo." For us Filipinos to move forward, we have to look back. We have to stop repeating the mistakes of the past and to do this we must first learn what they are and accept them. This, aside from the fact that history is a really interesting topic and that I know a lot about it, is the reason I decided to make it the subject of inquiry through comics.
Through Dead Balagtas, I aim to rouse one's curiosity about Philippine history and eventually inculcate some sense of appreciation for it as I encourage research among its readers. Ours is a very colorful history, after all.
How does Dead Balagtas conceptualize and choose the Philippine history topics they would want to illustrate?
I envisioned Dead Balagtas to be a sort of 'today in history' segment.  I make and post the comics on the day or the month in which the event happened, or the month in which the hero was born (or died). That's why on December, you have Rizal comics. On November, you have Bonifacio comics. But there are also really important current events in which I demand to post comics about them. That's why every Women's Month – that's March – I treat readers to a dose of wonderful and much needed herstory, so kahit pa noong Disyembre nung nag-petition 'yung mga kababaihan ng Malolos para sa karapatan nila magturo at matuto, I'd post the comic about them on March. If all else fails, draw ELIBARRA.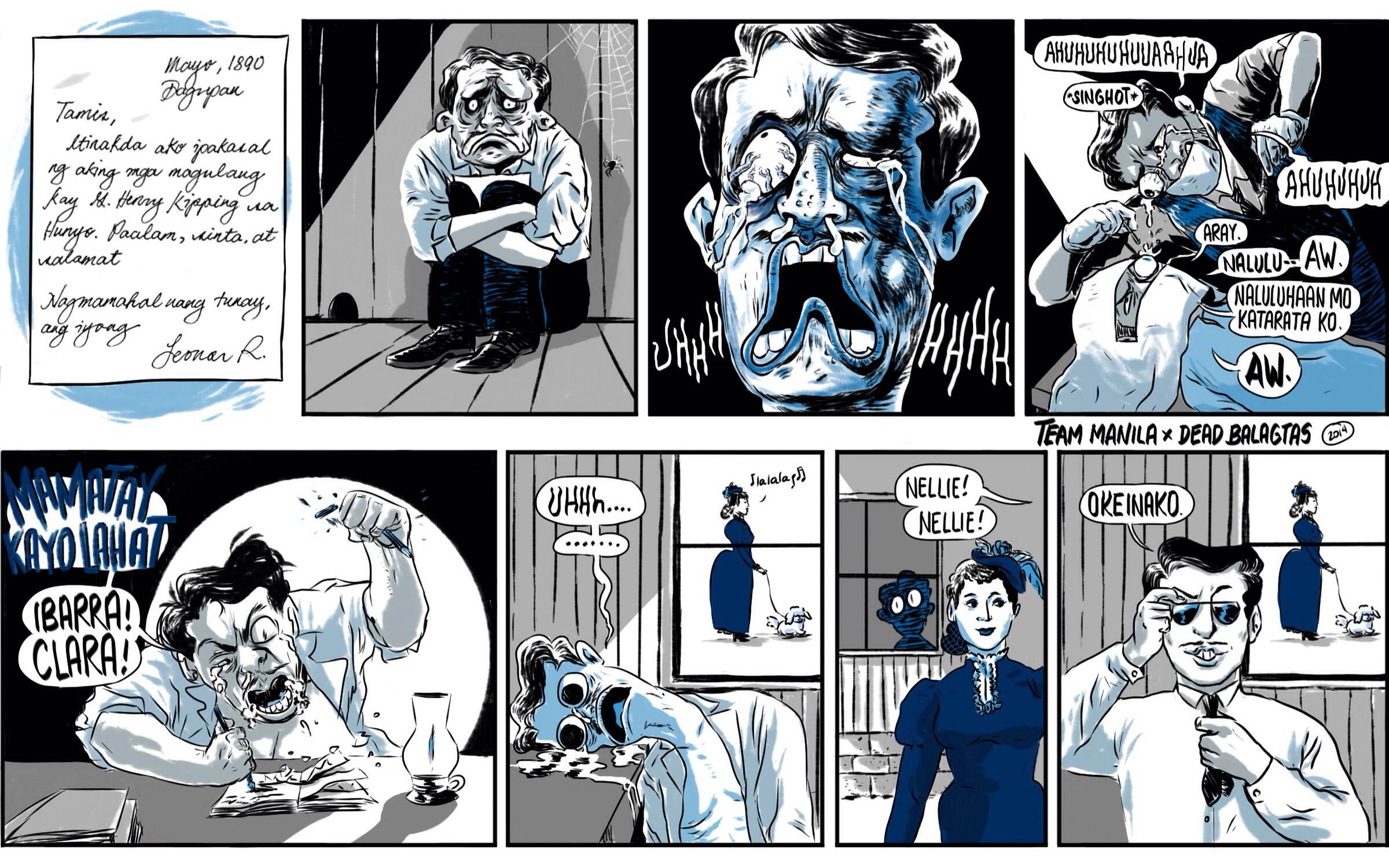 Due to its strong social commentary, have Dead Balagtas ever encountered bashing or negative comments?
Oo. Some people are uncomfortable with the irreverent treatment of heroes and of historical events in my comics. Some people just don't like particular heroes or particular facts about them which I portray in my comics, lalo na kung tungkol sa mga 'makakaliwa' o 'pulang' bayani. Some enjoy correcting me.  I take it the same way I take positive criticism because you learn from both. Maging hatemail pa 'yan or happymail, masaya akong matanggap ang mga iyan kasi ibig sabihin, nakuha ko ang atensyon nung tao. Flame it or praise it, I'm good with either. Hey, it's a free country.
What's next for Dead Balagtas? What should we watch out for?
More lovable dead people will be featured – from the very well known to the much underappreciated heroes; they will all get their turn in Dead Balagtas. I've not yet made any comics concerning the beautiful history of Mindanao and those of indigenous people as I am still in the process of establishing a 'solid readership'. Magkaka-komiks rin sila.

There are also a lot of unknown events which didn't really make it to the annals of 'mainstream' history – the cigarreras who were the first female unionists and their revolt, the 1880's monetary crisis, the Basi Revolt, The Pulahan Massacr, magkaka-komiks din. And wonderful dead people like dear Kuya Pepe will return to haunt us. After all, history is the story of a people's collective efforts rather than the hardships of but a few people.
Dead Balagtas' Three on Three
Top three Philippine Heroes

a.      Leona Florentino
b.      Andres Bonifacio 
c.       Encarnacion Alzona
Top three favorite moments in Philippine history

a.      The Tamblot Revolt/Aklasan ng mga Babaylan
b.      The Rise of early 19th century Feminist Movements
c.       WWII Battle of Candaba
Top three Filipino ulam

a.         Kare-kare
b.         Sinigang na Alimasag sa Bayabas
c.          Pesang Dalag
Get your daily dose of history with Dead Balagtas. Visit www.deadbalagtas.tumblr.com or follow her here.
Categories Art + Design