Imagine a world without scanners, high-tech pens, or Adobe Photoshop … Now imagine having to work on an album cover for your most favourite band in the whole world. How is that possible? Will you even be able to create something good? Now, don't you panic because it worked excellently back when Spotify did not exist and all we had were vinyl and cassette tapes.
You got it right, let's throwback ourselves to great Pinoy Rock music and the wonderful art that comes with it. From Sampaguita to Juan dela Cruz, TeamManila presents to you this Hit List of Our Favourite Pinoy Rock Album Covers from the 70s to 90s. Come on and check-out our list below as we also add a few fun facts about the art and cover. Enjoy!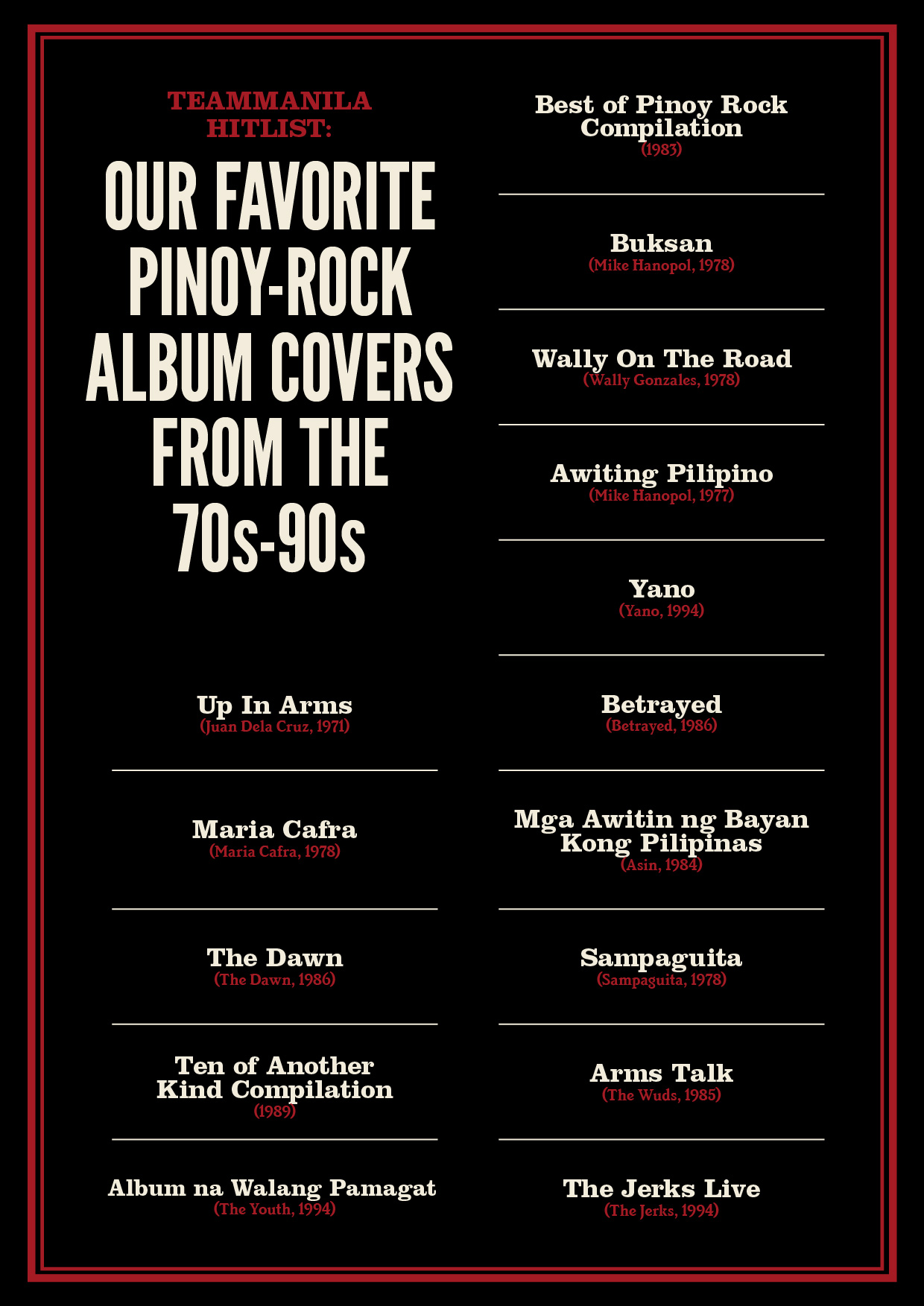 Asin – Mga Awitin ng Bayan Kong Pilipinas (1984)
Featuring the band in a groovy psychedelic cover, Asin's fourth album was an experimental record adapted from traditional and contemporary Philippine songs. Known for their political-driven lyrics, Asin incorporated Philippine indigenous instruments into their pop rock music.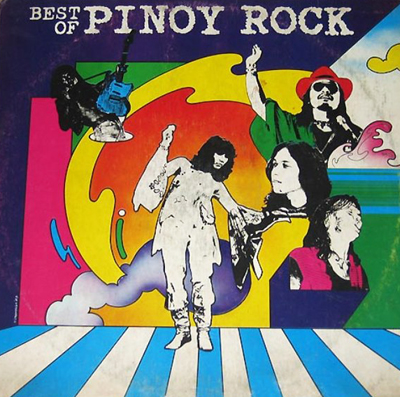 Best of Pinoy Rock Compilation (1983)
A compilation of some of the best Filipino rock songs from the the 1970s, the Best of Pinoy Rock features tracks from Wally Gonzales, Mike Hanopol, Pepe Smith, Judas, Anak ng Bayan, Sampaguita, and Maria Cafra. Released in 1983, the record's cover is a lovely spin-off to a mind-bending colourful imagery.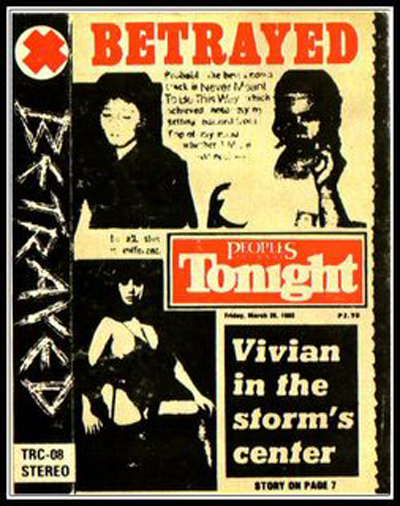 Betrayed – Betrayed (1986)
Punk band Betrayed's self-titled debut album featured cut-outs from a People's Tonight headline along with a snapshot of sexy actress Vivian Velez in its cover. Released in 1986, Betrayed was sold in cassettes under now-defunct music label TMZ.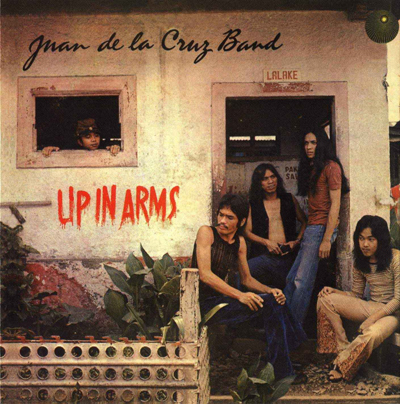 Juan de la Cruz – Up in Arms (1971)
Flared denim and long wavy hair was all the rage in the 1970s as seen in Juan de la Cruz's album cover for Up in Arms. Featuring four gents casually posed in front of a restroom together with an uncanny policeman sneaking from a window, Up in Arms' cover is an amusing take on the country's political situation during that time.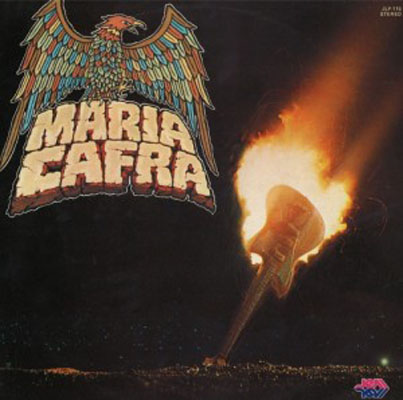 Maria Cafra – Maria Cafra (1978)
Who would think that a burning guitar falling from the sky would be an interesting subject for an album cover? Well, Maria Cafra thought so. Along with its iconic eagle logo, this rock band from Olongapo released their debut album with much success as they also pioneered good old Pinoy rock and roll.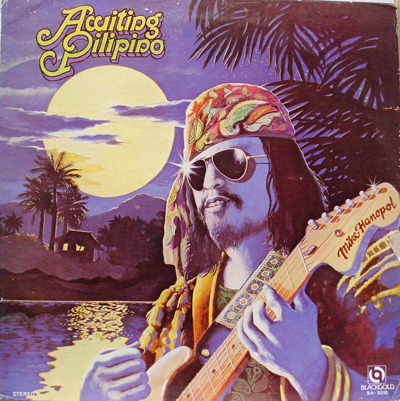 Mike Hanopol – Awiting Pilipino (1977)
A purple skinned Mike Hanapol take center on the cover of his fifth release, Awiting Pilipino. The former bass guitarist of Juan de la Cruz, Hanopol took a separate path from the band and produced twenty albums recognized here and abroad.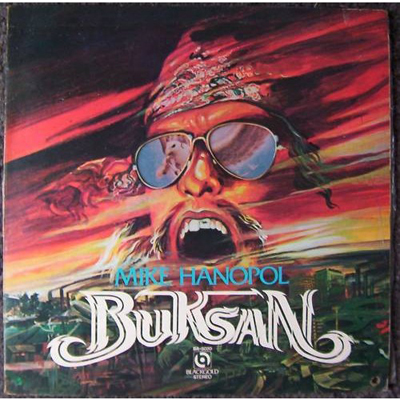 Mike Hanopol – Buksan (1978)
Mike Hanopol stayed consistent with his music's art as seen on the cover of his 1978 album, Buksan. Still featuring Hanopol on the sleeve, Buksan's cover art is a fine painting of the artist's face situated on a reddish sky as it lies above an urban setting.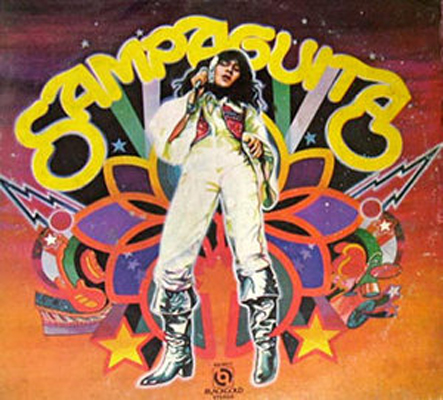 Sampaguita – Sampaguita (1978)
Of course we just can't miss Tessy Alfonso better known by her stage name Sampaguita in this list. Filled with colour, Sampaguita's self-titled debut album shows how the women of the 70's rock it just like the boys – in jumpsuits and cowboy boots that blends the psychedelic aesthetics of rock and roll.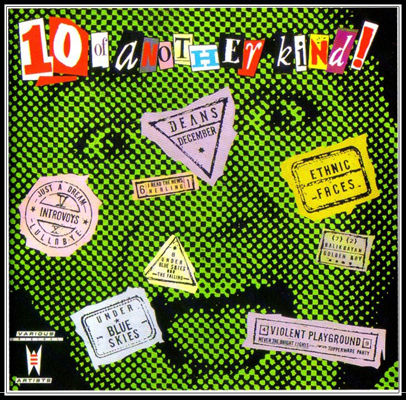 Ten of Another Kind Compilation (1989)
Quite reminiscent of the Sex Pistols' Never Mind the Bollocks is this compilation record released in 1989 by Universal Records. Ten of Another Kind features tracks from some of the 80s best alternative and new wave bands like Under Blue Skies, Ethnic Faces, Introvoys and Deans December.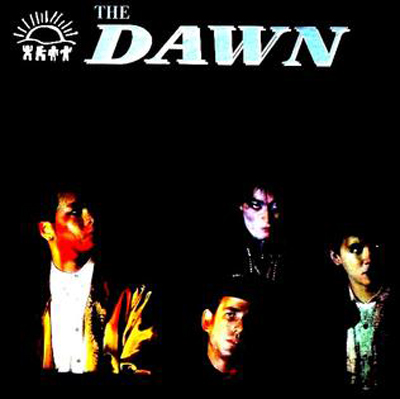 The Dawn – The Dawn (1986)
Before their commercial success was The Dawn's self-titled debut album which features the four original members, Jett Pangan, Teddy Diaz, JB Leonor and Carlos Balcells on this dark gothic-like cover. Twenty-nine years and ten studio albums after, The Dawn stays remarkable both here and abroad.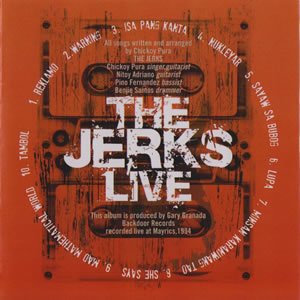 The Jerks – The Jerks Live (1994)
Fifteen years after they were formed, The Jerks initial release stayed close to the band's alternative rock sound which has been followed by many local record collectors. Its cover which is strident in red is layered with two mirrored cassettes prominent in the 90s.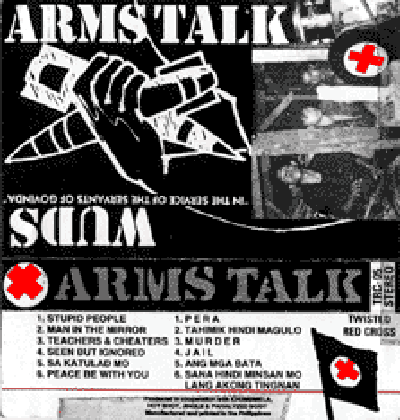 The Wuds – Arms Talk (1985)
The forefathers of the Filipino punk scene, The Wuds, were influential in the early 80s as they sang about the country's economic woes and political unrest. Arms Talk which stands for Armies' Reunion for Modern-age Service and Training in Attainment of Love and Knowledge subtly depicted the revolution of their sound as fairly seen on its graffiti-like album cover.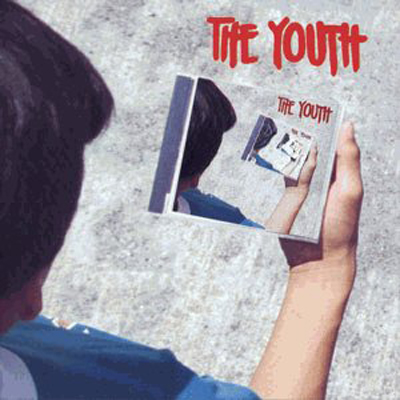 The Youth – Album na Walang Pamagat (1994)
The Youth's album title for their second release is just as amusing as its cover. A top view of a man holding the record is a smart inception of the band's humour just like two of the tracks in the album, The Alphabet Song (Mother Funker) and Anak Ka Ng Ina Mo. It definitely is pure Filipino wit combined with a good taste for art and music.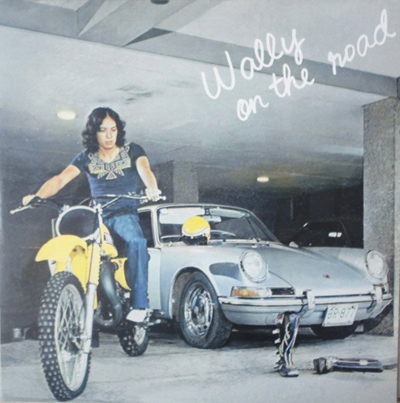 Wally Gonzales – Wally on the Road (1978)
Just like a real bluesman, cool yet always on the go, is this album cover for Wally Gonzales' 1978 release aptly named Wally on the Road. Juan dela Cruz' former guitarist took success on many of his solo albums with this record being a favourite by many. Really, who wouldn't fancy that lovely chedeng on the cover?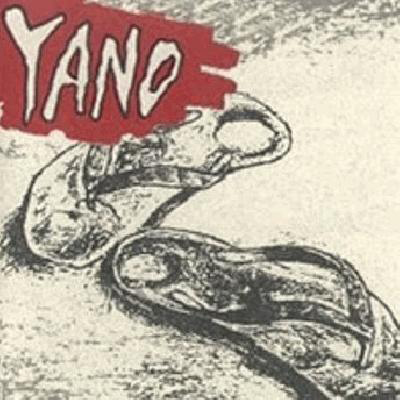 Yano – Yano (1994)
When it comes to album covers we just can't deny the amazing consistency Yano delivers. Though out of the band's six releases, this one stands out with its beautiful palette of colours and smart choice of type – simple but detailed in a two-tone layout.
Categories Art + Design, Hitlist