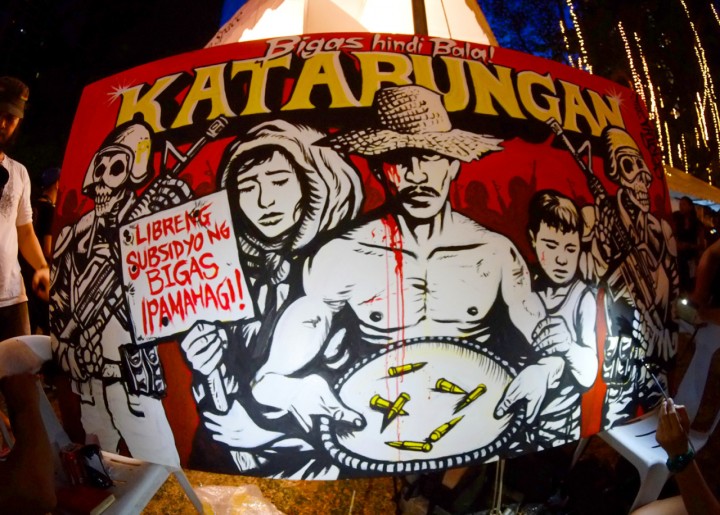 Seeing beautiful walls on your way to work or home only proves that the art scene has been evident in the society especially around the metro—Intramuros, Marikina, Bonifacio Global City and Quezon City, among others.
Public spaces are perfect as a venue for creating art since everyone can view them. These can be a medium to hear the voice of the members of the society, specifically artists, allowing them to express themselves through art expressed in the streets.
There are various purposes for creating art. It could be for personal reasons which are purely aesthetic for the joy of painting in the streets; a message that artists want to convey that deals with political and social issues; or it could be a work of art that may make people think.
Although some may see it as vandalism, this kind of art should not be underestimated. Read on and let's discover the world of street art and get to know more of one of the country's emerging street artists, Gerilya.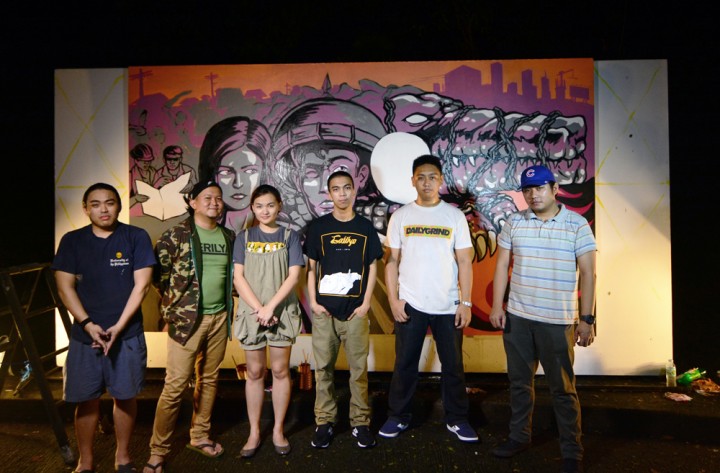 1. How and when did it all start? Who come up with the idea of forming your group?
It was year 2008 way back in college, the original members—Me (Janno), Kube and Zap, were batch names in Fine Arts who shared a passion for comics. We wanted to do extra-curricular art projects of our own apart from the ones taught in class. So in that year, we released our very first collaborative work which was an "indie" comic book and named it "Gerilya Komiks." Since then, we would sign our works that we do collectively under the Gerilya name. As far as I remember, there wasn't a plan to form the group. It just happened.
2. What is your inspiration with your art?
Our inspiration for our art has always been the "Filipino." That being a Filipino is enough to mine our culture, history and dreams for the future in order to create works of art that would ultimately give back and serve our fellow Filipinos. We believe that the Philippines is a treasure trove of inspiration for us artists.
3. How would you describe your art?
We've always adapted a comic book style in most of our art projects. We've always wanted to be professional comic book artists ever since college so I think that aspiration has been consistent with the way we approach our art making process. So just like how we do comic, we use stark black ink-like outlines, bright pop colors and playful use of typography. Also, you'll usually most likely see us using Filipino-themed visual icons, most, if not all the time.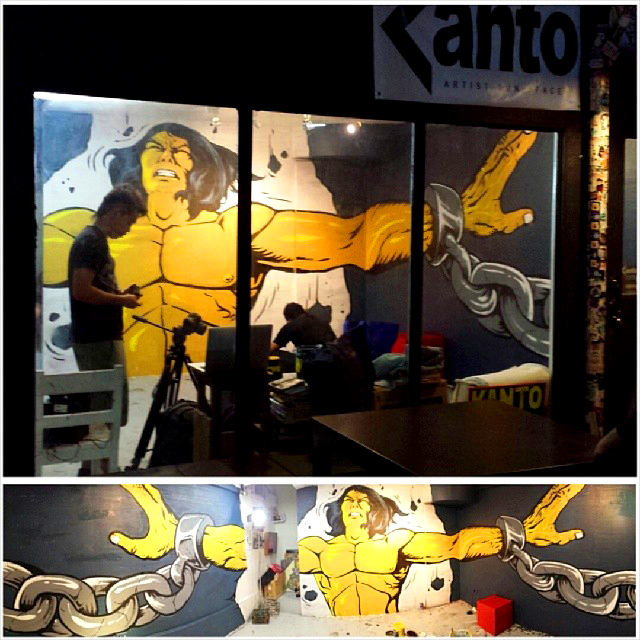 4. Why did you choose this form of art as a means of promoting awareness? Why did you choose the streets as a venue to exhibit your art projects?
When we first started doing art on the streets there were not much street artists in the metro. We were drawn to the creative energy that the graffiti artists were doing at that time and we wanted to try our hands on it just on a whim. Bu then slowly, we've realized that this art form can be utilized more. We felt it can be used as a weapon, that street art can also be more than just an image painted on a wall. That it can be the voice of the oppressed, that it can be a magnifying glass for social issues that needs attention.
5. What are the subject or issues tackled in your street art projects?
We've categorized our artworks into three types: Kultura, Kasaysayan at Kasarinlan. Kultura are cultural pieces which celebrate our traditions, values and our way of life. Kasaysayan are our artworks which take inspiration from our history to commemorate notable historical events and to give tribute to heroes as well. And finally, Kasarinlan which are socio-political artworks that raises awareness about certain issues that we, as a nation experience.
6. What do you think is the main purpose of your street art projects? What message do you want to convey to people?
When people ask us we always say that our group isn't "advocacy-oriented." We always want to maintain freedom in what we want to do and that includes putting a label to our practice. Our approach isn't what's societal issues need to be addressed but it's always what we feel like doing. Whenever we support an issue through our Art, we find a reason to do it. If it compels us enough to do a piece about it, then so be it. So most of the time, we only do issue-based work that concerns us and that also affects us. An example is the artwork we did on Budget Cut for Education sector back when we were students and the election-themed works we released during the Election period. However, there are instances when there are sectors from society which are in need of artists to represent them and we are always open to them for collaboration. Like the time we painted with Sir AG Sagno in his advocacy for the environment, or the time we visited the farmers in Hacienda Luisita to transform their grievances for Land Reform into art. Just recently, we also lent our hands to the Lumad community in doing a mural dedicated to them during their Manilakbayan march even though we aren't members of the tribe but because we believe in what they are fighting for. Sometimes, it feels better as an artist for your art to be of use to someone rather than for your art to just look cool but with no substance.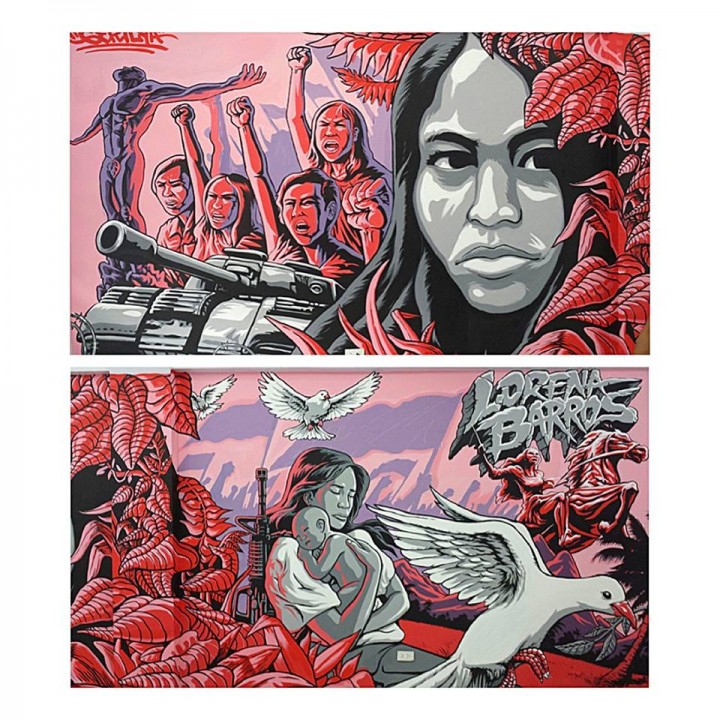 7. In which specific areas in the metro do you create street art?
Mostly around the Quezon City are since that's where most of us reside. We 've installed a lot of paste-up works around QC but most of them are gone now. We also have a couple of murals still up inside the UP Diliman campus though.
8. Can you name us galleries and exhibits where you were given the chance to show your works?
Gerilya have had three solo/group in the past, one per each year starting 2012 except last year (2015) because we were focused then on doing murals. The first one was the "Pinoy Rangers" show in Kanto Gallery in Makati, the year after that 2013 was the "Press Start" exhibit also in the said venue. The third one was a surreal experience—a chance to exhibit in Bencab Museum in Baguio where we got to meet Sir Ben and also for him to curate the whole show was an unforgettable moment for us. The title of the 2014 Gerilya exhibit in Baguio was "Dayo."
9. Though you are considered as one, can you tell us the role of each artist?
When we do artworks, our approach has always been the comic-book art process. We are big comic-book geeks and we are big fans of some of the best comic book artists so I think when we tried to emulate them their influence also spilled to other art forms we do out side comics. Even until now when we do murals and street art, we treat the walls as if they are comic book pages. We work collectively yes, and we accomplish this by assigning roles based on the strengths of each artist member to be efficient. We basically have the "Sketcher" who does the thumbs and the rough-layouts of the piece. Then there are "Mixers," the "Flatters" and the "Renderers" who take care of the color harmony and color scheme and then finally the "Inkers" who handle all the outlines and checks the line-work detail. Kind of like in comic books where there are Pencillers, Inkers and Colorists. I can't really say which of us belongs to what though because we usually take turns in each role depending on the artwork.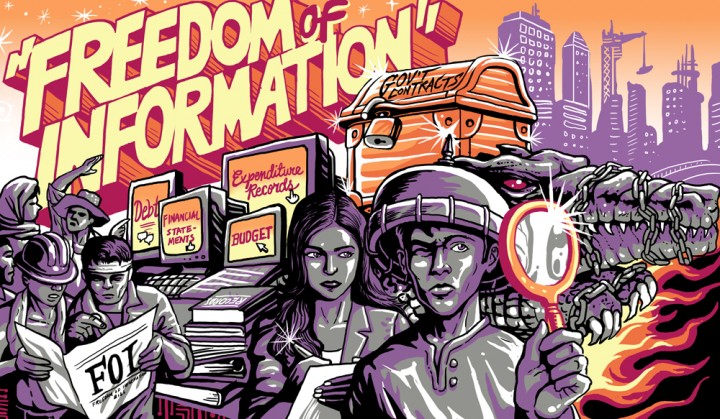 10. Why did you name your group as "Gerilya"?
There are three seasons as to why. First was because of the Gerilya Komiks—the name of our very first project as a group. Second, because we're big fans of the hero Macario Sakay, who was an undefeated Katipunero who used a "Guerilla Warfare" tactic during the revolution. Third, because we feel that it captures what we want to strive for: Independent, Free-spirited and a Trust your struggle attitude.
11. How do you feel whenever you are creating such form of art?
Happiness and contentment, I guess. Happiness because when we started we really just wanted to do this for fun. Contentment is a bonus, knowing that we've accomplished our goal is an incredible feeling. And to feel better knowing you're doing this for much bigger reason, the feeling of being able to give back is beyond words.
12. What are your group's words to live by?
"Gawa lang nang gawa."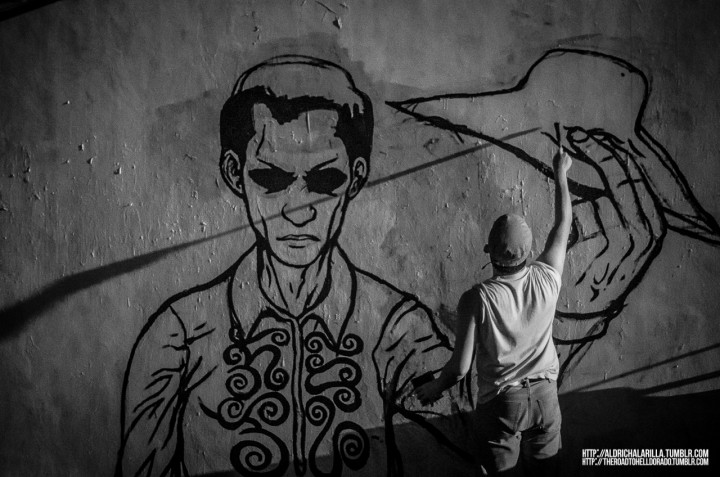 With these, using the urban space as a canvas for creating this form of visual art is getting larger. Whether it be graffiti, stencils, stickers, mosaics, installations and even yarn bombing, street art is definitely an effective tool for change.
Categories Art + Design, Features