It's the 153rd birth anniversary of the Father of Philippine revolution! In commemoration with this special day, we ask you one question. Did you know where the Supremo was buried?
We all know that Jose Rizal was buried under the Rizal Monument in Luneta; Emilio Aguinaldo, behind his mansion in Kawit, Cavite and the notable people such as Former Pres. Diosdado Macapagal, National Artist for Visual Arts Vicente Manansala, Foreign Affairs secretary Carlos P. Romulo, including soldiers and former guerillas who served the country with honor and beyond the call of duty were laid to rest at the Libingan ng mga Bayani. But how about Bonifacio's remains? Now here are the speculations where Bonifacio's remains are as researched and stated by historian Ambeth Ocampo.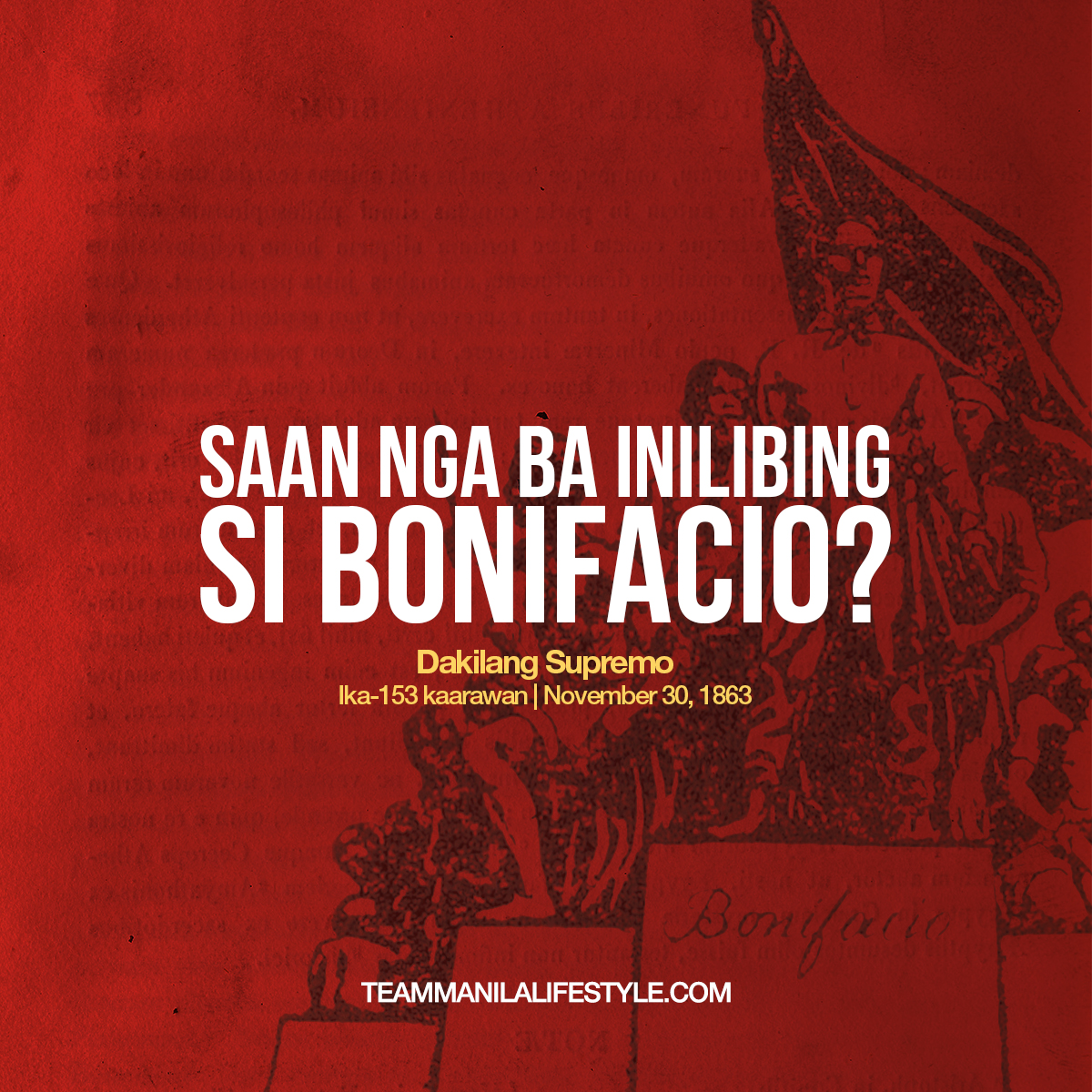 Bonifacio's bones are reported to be exhumed in Maragondon, Cavite in 1918. However, history says that he and his brother Procopio Bonifacio were executed in Maragondon on May 10, 1897 because of being found guilty of treason, both of them sentenced to death and were buried on the same grave.
In the same year, there are claims that his bones were exhumed and were deposited in the National Library and Museum but they were lost or destroyed during the 1945 Battle of Manila.
In 1945, the bones were kept and later destroyed in the Legislative Building according to Guillermo Masangkay.
Prior to being destroyed when Manuel Quezon asked to transfer them to the National Museum during the World War II, the bones were exposed to be given honor by the public in the Temple of the Legionarios del Trabajo at the junction of Azcarraga and Soler in Manila downtown.
Are you familiar with the Bonifacio Monument in Caloocan that is called 'Monumento'? In 1933, after the bones were authenticated by Dr. Sixto de los Angeles, they were cremated and deposited at the base of the monument.
According to "Desaparicion de los restos del gran plebeyo?", an item in The Independent (March 6, 1926), the bones were deposited in the Templo de Jerusalem de los Legionario del Trabajo after it arrived in Manila from Maragondon, Cavite, where they were exhumed three months ago.
In the end, let us all pay tribute to the Great Plebeian, whether it will be at the Monument in Caloocan, Tutuban, Diliman, Manila Central Post Office Building or the Shrine near Manila City Hall and continue to remember his works in our hearts forever.
Categories Features