Whether it is a week-long beach trip or a day or night hike, one of the things that you consider when you're planning an escapade is if you're going to travel alone or with a group of people.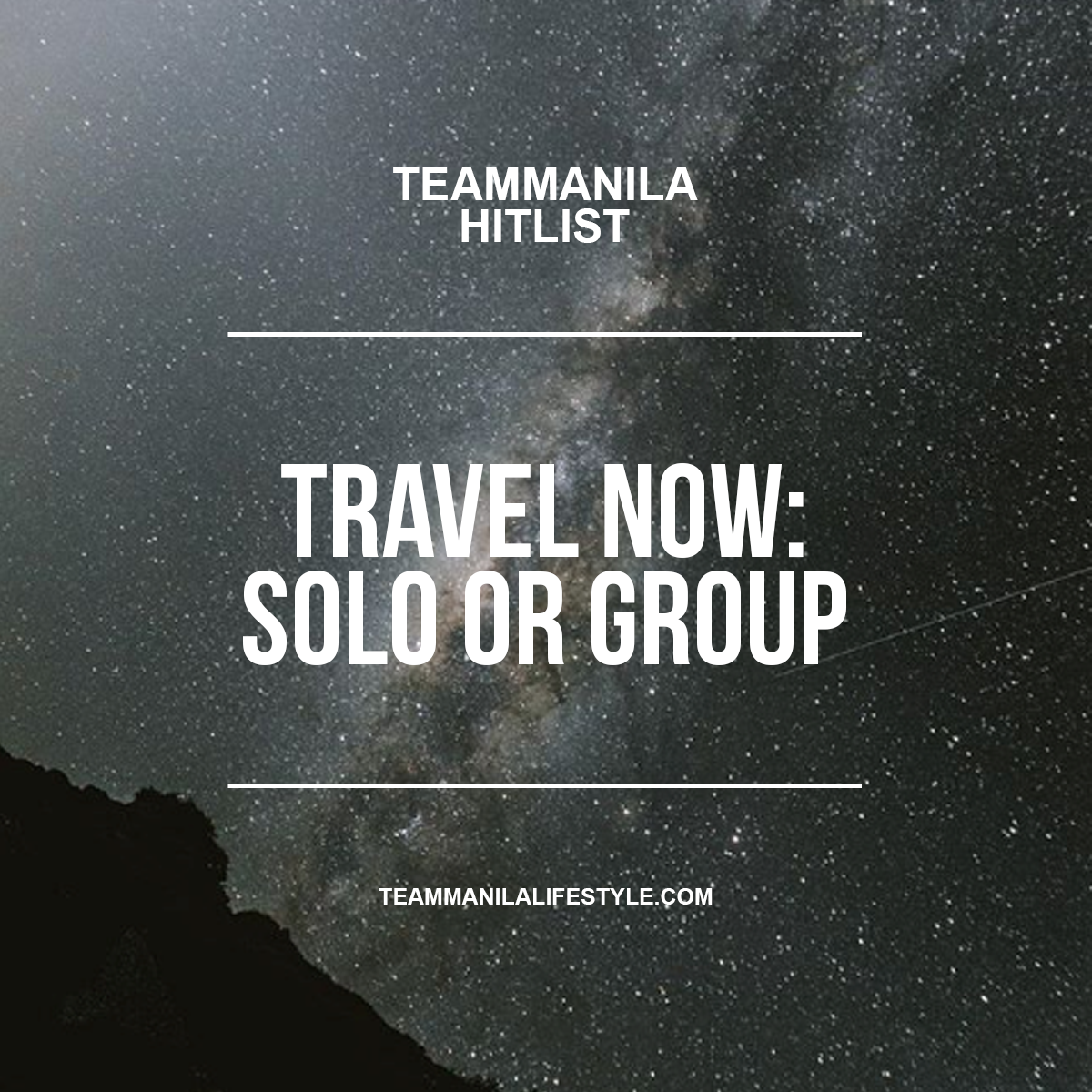 @iavnt Instagram
Who wants to spend a lot if you can save when you're with the right group of people? Who wants to go solo because of being let downed by the people who said that they would come along with you? These are just some of the things to consider in your travel plans.
Now, let us discover more of this backpacking dilemma from these travelers on which they would most likely prefer to do.
ON TRAVELING IN THE MOST FLEXIBLE WAY POSSIBLE
"I would travel alone if I need to reflect on certain things. What I like about this is that you are only concerned about your own needs and desires. You could do absolutely nothing or fill every hour with activities; it will all be up to you. Still, I also enjoy traveling with a group. Travel for me is a road that leads to new stories and perspectives. These can come from the new people you encounter and also from the ones you traveled with. It's so much more enjoyable to sleep in airports and laugh about misadventures when you get to share it with other people. "
Ayen Dela Torre of Where to Next
Where to Next is a venue for sharing stories that inspire you to travel with passion and purpose.
Instagram
Website
ON GOING BEYOND YOUR COMFORT ZONE WHEN YOU GO ALONE
"It is always a fun experience traveling with friends/family, but for me, the real essence of travel starts when you push yourself beyond your comfort zone. That usually happens when you travel alone; when you have no other choice but to use hand signals or imitate sounds just to get your point across asking a local who cannot speak the same language that you do, dive deep into conversation as you share stories to strangers you have just met in a hostel and feel real connection, and lose track of time since no one is constantly reminding you that you have to rush to your next stop."
Jayson Cortez is currently based in Dubai, UAE who loves taking photos and contributes them in an online travel blog.
Instagram
Website
ON DISCOVERING MORE OF YOURSELF AS YOU FLY SOLO
"I love traveling with a group of friends, but honestly I've learned to enjoy traveling solo more. Other than being so much more flexible with time, traveling solo is a great way to discover the world while discovering more about you at the same time. It forces you to interact with people to help you with mundane things which would otherwise make you uncomfortable, but it also helps you to feel more open to meet new people of different cultures and walks of life, while giving you a better understanding of who you are as a person and an ambassador to the world.
Robin Barlis is an engineer by clock-in and everything else by clock-out.
Instagram
ON SEEING BREATHTAKING VIEWS AND CAPTURING MOMENTS ALL BY YOURSELF
"For years now, I have explored the country as a solo traveler, and it is still my favorite traveling style. I do believe that 'solo' does not equate to being alone; I backpack to different locations by myself and then immerse myself in the community I set foot in. As a photographer, I love taking in views and living moments at my own pace. Breathtaking views as majestic as the sunrise in mountains and sunsets by the ocean need time to digest. I want to imprint every moment, knowing there is rare chance I get to witness the same exact phenomena in a location twice. My top 2 priorities when traveling are capturing moments/the great outdoors and the locals that got close to my heart. During travels, I meet fellow creatives as well who share my love for creating content; with them I grow. Traveling solo allowed me to be flexible and strategic, humble and eager."
Ivan Torres is a photographer and filmmaker focusing on travel, food and lifestyle.
Instagram
Website
ON EXCHANGING ENERGIES AND LEARNING FROM BEING WITH A GROUP OF PEOPLE
"Before I even learned to hold a camera, I travel primarily for the purpose of exchanging energies with people, learning their stories, and helping inspire friends to live out of their comfort zones. I love traveling with different people. Through this, I have learned to listen, share, love, imagine, and create. By immersing myself in communities and groups of different skills and profession, I have discovered my love for photographs & films; I cannot imagine who I will be now if not for those people who got my back and made me realize my passion. I continue to travel with the aim of getting to know people and making differences in their lives, while exposing the beauty of different places, country after country. To them I dedicate the videos I create, as they have inspired me to create these films in the first place."
Eka Gomez is a travel, lifestyle and event cinematographer, photographer and editor.
ON PREPARING WELL FOR EVERY SOLO TRIP
"Before, I travel with my friends, workmates, etc and I am the one who took over the itinerary of our travel destination. Traveling with the people you knew is exciting but the problem is that when the travel date is coming, some of them can't go due to a lot of reasons. I think many can relate to this.
You need to adjust your expenses as a group and I find it hard to liquidate the expenses especially if you booked the accommodations, travel agency, among others since if there are more number of people in the group, the lesser the expenses will be. I came to realize that travel with a group of people must be done if everyone in the group cooperates. Right now, I prefer to travel solo and I find it challenging on my part because I was able to express myself and step out on my comfort zone. What I appreciate about traveling solo is that you were able to know more about the culture and norms of a particular place. You were able to make friends and see the world on a different point of view. Just like in a group travel, traveling solo needs a lot of preparation and planning and the good thing about it is that you don't need to wait for others just for the plan to push through because you can freely adjust your itinerary and expenses. This also requires you to take risks and makes you possess a brave spirit."
Aaron Nathaniel Lindo is not just your ordinary scientist. He is a registered medical technologist and a self-proclaimed mountaineer. He chases dreams and lives his life to the fullest.
With our 7,641, now is the right time to experience it whether you have not tried traveling alone or have not been with the company of others. How about you, which of the two works for you? Share us your story too.